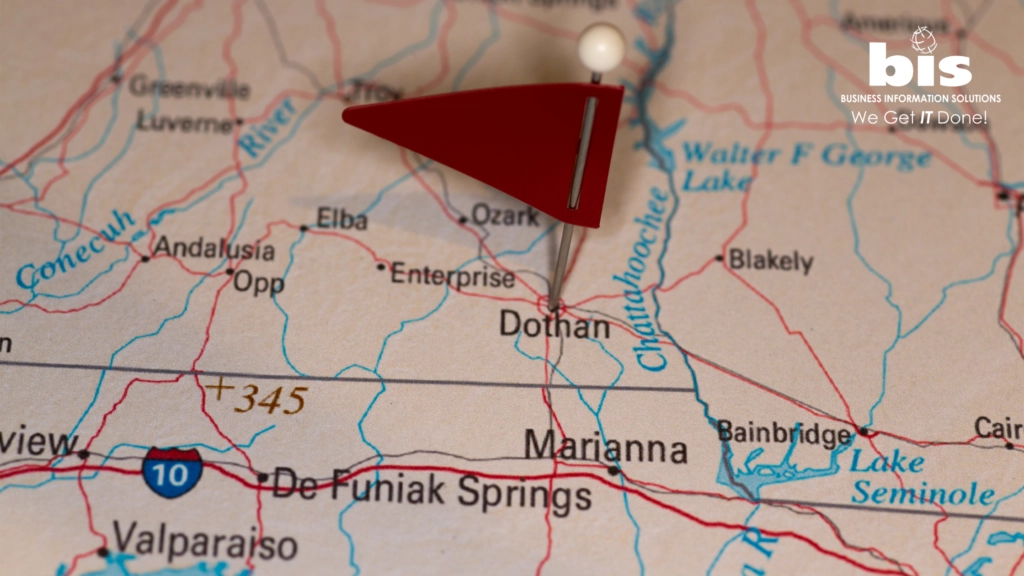 FOR IMMEDIATE RELEASE
Contact: Shaina Robinson
srobinson@askbis.com
251.405.2554
Robertsdale, AL (January 25, 2022) – Business Information Solutions, Inc. (BIS), the leading technology and cybersecurity firm on the Gulf Coast, is excited to announce they will now be providing managed IT support and cybersecurity services to businesses in Dothan, Alabama, and the surrounding areas.
This is the fourth expansion to take place in the company's history (the former being Pensacola, Florida, Biloxi/Gulfport, Mississippi, and Monroeville/Evergreen, Alabama). Plans to develop operations in Dothan, Alabama were initiated by CEO Phillip Long and his help desk team leader, Garett Brooks, who recently relocated to the area.
With this expansion, organizations can expect to receive enterprise-grade technology support from a large team of engineers at an affordable price.
"We've been on the Gulf Coast for the last 20 years," said Phillip Long, CEO of BIS. "With three successful expansions under our belt, my team and I are excited to provide technology, compliance and cybersecurity services to local Dothan businesses."
Business owners and executives are invited to a complimentary lunch-n-learn on Thursday, February 24th, 2022 from 11:30 AM to 1:00 PM located at Old Mill Restaurant, 2557 Murphy Mill Road in Dothan, Alabama. Reservations can be made by calling 251-405-2554 or visiting web.askbis.com/rsvp-dothan. 
To learn more about BIS, visit www.askbis.com.
About Business Information Solutions
Business Information Solutions, a division of BIS Technology Group, is a full-service IT support company founded in 2001 that specializes in comprehensive IT solutions to businesses on the Gulf Coast. Learn more by calling 251.405.2554 or visiting askbis.com. BIS is based in Robertsdale, AL.